Witajcie!
Po sobotniej grze, dużo z moim towarzyszem gry, Robertem, rozmawialiśmy na temat efektywności niektórych jednostek i ich zastosowania w przyszłości. Z mojej strony, skupię się nad efektywnością Orków, no bo w sumie na tym się znam. Aby utrzymać jakiś porządek, wymienię każdą jednostkę, którą wystawiłem, a potem omówię jej wady i zalety w Apokalipsie.
Welcome!
After Saturdays game I have spoken to the other chaos player a lot, Robert, on effectiveness of some units we used. I will focus on Ork units, since I know them most. To keep some order in this, I will do one unit at a time and mention all pros and cons in Apocalypse.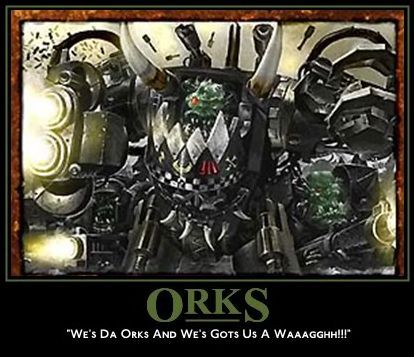 Apokaliptyczna Formacja: Green Tide
10 mobów orków
1 Warboss
Wystawiłem 4 duże moby po 29 orków i 4 nobów z Power Klaw. Daje mi to 6 mobów bez nobów i 4 z Nobami. Więc taki trochę niepełny Tide, ale nadal legalny. Warboss z Power Klaw i Boss Polem.
Zalety:
- duży blob, który może związać i 'przebiec' przez oddziały przeciwnika
- przerażenie w oczach przeciwnika, szczegónie jeśli wykorzystamy Strategiczny Asset, który pozwala outflankować z KAŻDEJ strony, nawet wystawienie przeciwnika, co zrobiłem
- przeciwnik w strachu strzela w nich wszystkim co ma, rezultat? cała reszta armii idzie spokojnie do przodu
- fearless!
- wystawiony w naszej strefie, za innymi jednostkami, będzie je zbierał ni pozwalając im uciec
Wady:
- duży blob, który przyjmie dużo placków i może zostać związany w walce przez jeden oddział
- ciężko nim manewrować
- dużo przestawiania modeli
Zastosowanie:
Jak już napisałem, taki oddział normalnie wystawiamy albo z przodu, aby związał wszystko w walce, albo z samego tyłu aby zbierał uciekające oddziały. Nadal, jest to masa mięsa i masa ran do zadania. Dodać do tego kilku Big Meków z Kustom Force Field i mamy calkiem wyporną formację. Niestety, jeśli nie damy tam Nobów z PK, to nie zrobimy nic przeciw pojazdom, ale jedna ważna rzecz, którą trzeba sobie ustalić na początku gry: co ten oddział ma robić. Ma iść na piechotę wroga? Na jego pojazdy? I tu i tu da sobie radę, ale w nie w dwóch zadaniach jednocześnie. Dodatkowo, czy umieszczenie całej jednostki z tyłu da nam cokolwiek? Po 100 orkach, co z piechoty zostanie w grze?
Apocalypse Formation: Green Tide
10 mobs of orks
1 Warboss
I played with 4 huge mobs of 29 orks and 4 nobz with Power Klaws. That gave me 10 mobs without Nobz and 4 with them. It was not the fullest Green Tide, but still legal. Warboss with Power Klaw and Boss Pole.
Pros:
- a big blob of orks, which can tie in or run over many units quickly
- fear in the eyes of your opponent, especially when you play the Strategic Asset, that allows you outflank from ANY side of the board, which I have done this time
- enemy opens everything they got to neutralize the unit, result? the rest of our army slogs forward unhindered
- fearless!
- deployed in our zone, it gathers all units falling back, not letting them run away.
Cons:
- big blob, that will receive plenty of templates and can be tied in combat by one unit.
- hard to manouver
- lots of models to move
Usage:
As I wrote above, such unit will either be deployed at the front to get into combat asap, or in the background to collect all units falling back. It's still heap of meat and wounds to kill. If you add few Big Meks with Kustom Force Field and we have got quite resilient unit. Unfortunately, if we don't add Nobz with PKs, we won't be able to hurt any vehicles. There's one important thing though, you need to make up your mind what do you want the unit to do. Go against infantry or vehicles? You can do both, but not at once. Also, placing this unit at the back will collect all other units, but what other infantry units will you have?