Witajcie! Po długawej przerwie przygotowałem dla was mały tutorial. Nic wielkiego, ale dla kogoś, kto chciałby zacząć bawić się formami odlewniczymi, zawsze jakiś początek. A więc do rzeczy...
Welcome! After a longer break I bring you a short tutorial. It's something for those of you would like to start playing with resin moulds. Let's go!
1. Najpierw musimy wymyślić sobie układ jaki chcemy zastosować. Najlepiej grupować w jednej formie elementy podobnej głębokości, tudzież wysokości. Ograniczy to marnowanie silikonu i umożliwi stosowanie wkładek z elementów starych form (o tym później). Zerknijcie na obrazek poniżej:
1. First you need to come up with a set up of your mould. Keep items of the same height / depth together, so it is possible to use remains of old mould (later on that) and minimise waste of silicone.
Duże beczki i duże skrzynie są w jednej linii, małe elementy w drugiej. Starajcie się zachować kilka milimetrów odstępu między jednym elementem a drugim, aby ścianki nie były zbyt cienkie. Uchroni nas to przed odkształceniami odlewu i uszkodzeniami formy przy wyjmowaniu. Ja proponuję minimum 3 milimetry przerwy jak już będziecie wiedzieć jak wyjmować, aby nie uszkodzić.
Big barrels and crates are put together, small elements as well. Try to keep few milimeters of space between each item, so the walls keep the shape of the original. I strongly suggest minimum 3 milimeters. This will also keep the mould safe from damaging during removal of casts.
2. Kolejnym krokiem jest ułożenie bariery trzymającej silikon w miejscu. Na tym etapie nie mocuję go jeszcze do podłoża (o tym dlaczego już za chwilę). Upewnijcie się, jak przy rozmieszczaniu elementów, aby było dość miejsca do krawędzi. Zewnętrzna grubość jest w sumie najważniejsza i trzyma waszą formę w formie, że tak się wyrażę...
2. Next step is to build a barrier keeping the silicone in place. I do not fasten it to the base just yet (more on that later). Make sure that the external borders are thick as well. They will keep the whole mould in shape.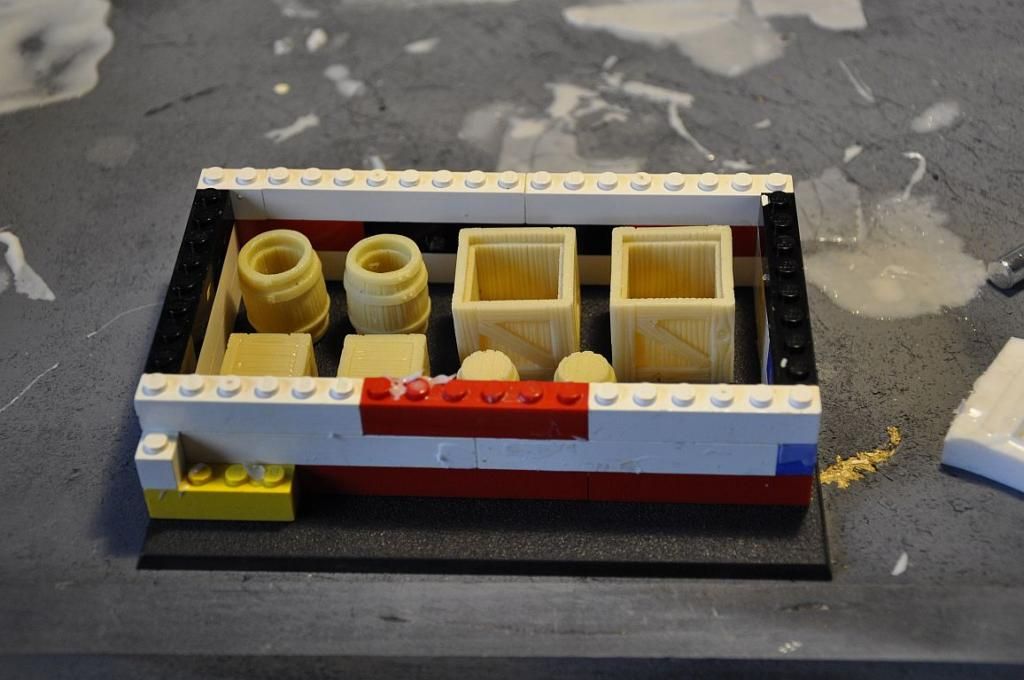 Zerknijcie na to z góry:
View from the top: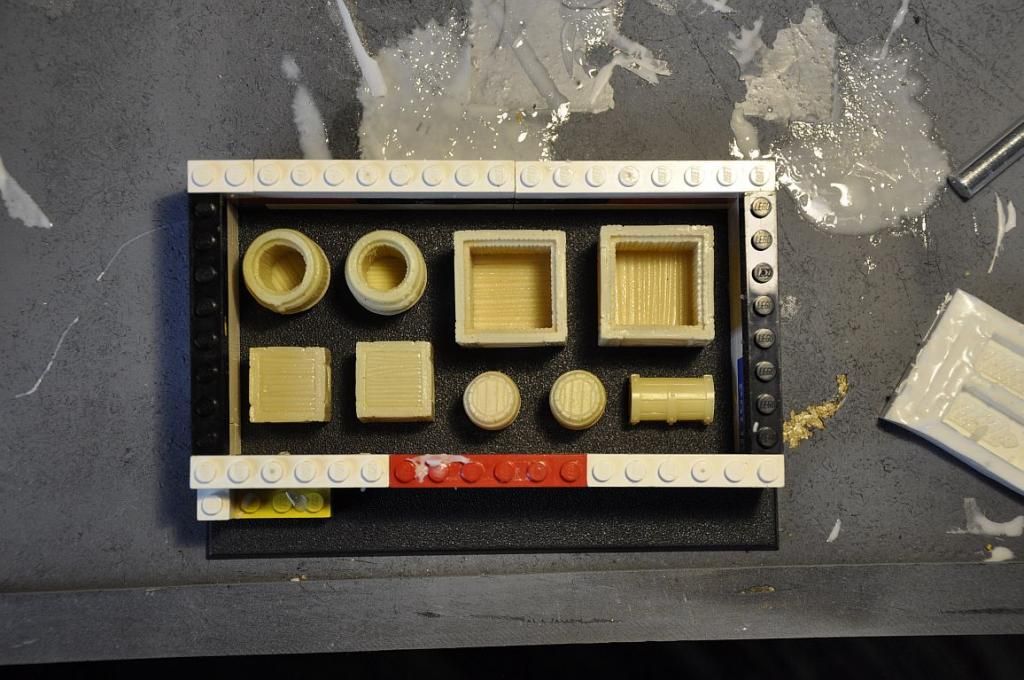 3. Teraz, kiedy formę mamy już gotową przystępujemy do rozrobienia silikonu. Są dwa sposoby: naukowy i "na oko". Naukowy to wyliczenie ile gram na cm3 silikonu potrzebuje w formie, minus cm3 zajmowane przez nasze oryginały. Ja preferuję ten drugi, wystarczająco form już narobiłem, żeby wiedzieć kiedy mam dość silikonu.
Silikon którego używam wymaga 5-6% aktywatora, więc na 103 gram wlewam kolejne 6.
3. Now when that's done, you need to start mixing the silicone. There are two ways to go about it: scientific and "gut" one. The scientific one is the calculation of how many grams per cm3 of silicone you need for the mould, minus cm3 of items you got in the mould. I prefer the "gut" one, I have done enough moulds to know how much I need.
For this mould I will start with 103 grams of silicone and 6 grams of activator (5-6% of silicone).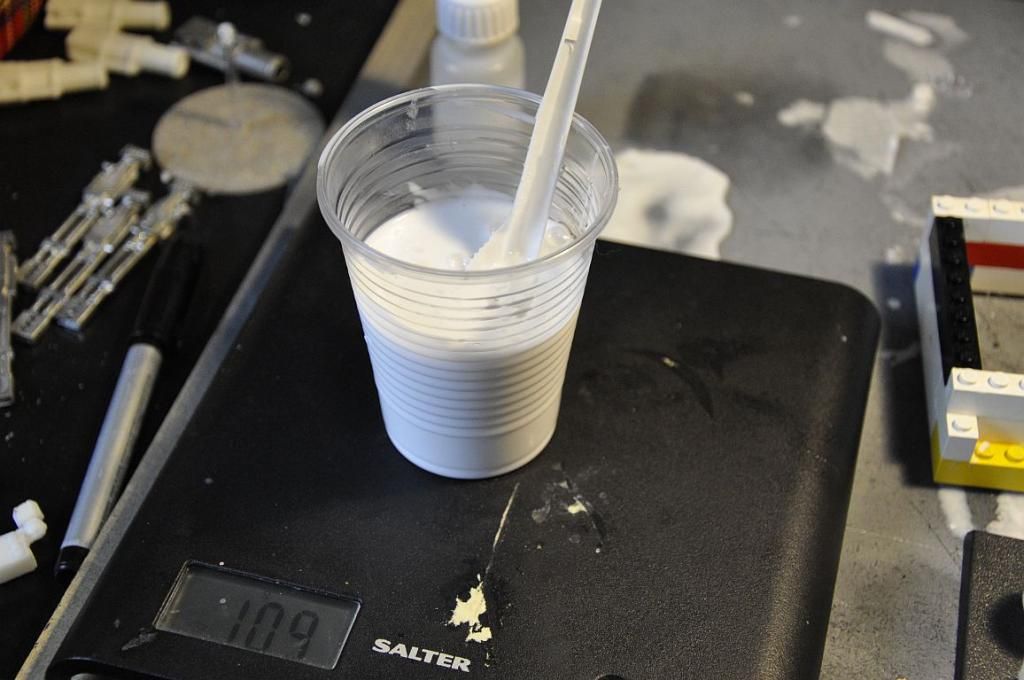 Teraz należy dokładnie wymieszać. TEN ETAP JEST BARDZO WAŻNY. Inaczej pokryjecie swoje twory silikonem, nie gotowym na ścięcie. Albo co gorsza, z wierzchu będzie tip-top, a w środku będzie świeży. Mieszajcie dotąd, aż będzie to jednolita masa. Zbierajcie z dołu kubeczka, z brzegów, z boków... wszystko należy wmieszać.
Now you need to mix it thoroughly. THIS STEP IS VERY IMPORTANT. If you do not mix it properly, you might end up with your items being covered with partly mixed silicone, which is not ready to set. Your mould will be useless and would have to be thrown out. While mixing, make sure you scrape the bottom, sides and all parts of your cup.
4. Kiedy już nasza masa jest gotowa pokrywamy zawartość formy. I tu mój mały trik. Ja mianowicie najpierw pędzelkiem "od silikonu" pokrywam wszystkie szczegóły. Mnie idzie to całkiem szybko, ale jeśli nie macie jeszcze do siebie zaufania, to rozróbcie sobie najpierw małą ilość silikonu i dopiero jak już skończycie ten etap, to rozróbcie resztę.
4. When our mix is ready and uniform, you can start covering your mould. And here's my trick. I use "that silicone" brush and cover all details on my originals. This way I am sure they will be present in the final mould. It doesn't take too much time, but if you do not want to rush it or your model is complex, make two batches of silicone, one small one with the rest.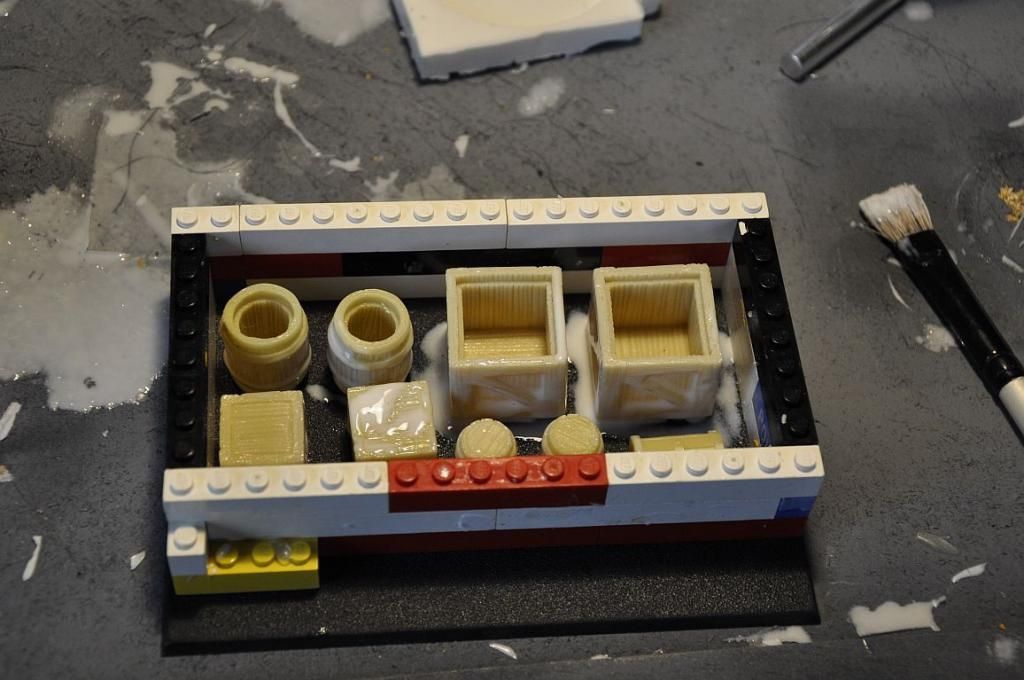 Można ten krok spokojnie pominąć, ale ryzyko jest, że nie wszystkie szczegóły będą widoczne na formie, albo co gorsza powstaną w silikonie bąbelki, które będę nadlewkami na odlewie.
You can easily skip this step, but your risk not have all the details in the final mould. What's worse, you might get bubbles, which will be extra resin on your cast.
5. Teraz zalewam formę resztką rozrobionego silikonu. Jeśli nie pokryję całej to nic się nie stanie, zawsze można dorobić. Gorzej jak mamy silikonu za dużo.
5. Now it's time to cover the mould with the rest of the silicone. If it's not covered fully, no worries. It's better to have less than too much of silicone.
Nie martwcie się tymi bąbelkami. Powstają przy nalewaniu. Im wolniej tym lepiej. Im rzadszy silikon tym lepiej, sam się wypoziomuje, co dam nam równą podstawę przy odlewaniu.
Do not worry with these air bubbles. They appear while pouring the silicone. The runnier the silicone, the more bubbles and better for us. It will self level and prepare a flat base for casting later.
6. Teraz możemy zająć się dorobieniem silikonu i wykorzystaniem starych ścinek niepotrzebnych, zużytych form (tak, formy się zużywają po jakimś czasie).
6. Now you can start adding bits of old moulds. Yes, yes... moulds get used up after some time.
Jak prawdopodobnie widać, w lewym dolnym rogu włożyłem kawałek starej formy.
As you can see in the bottom left corner, I have put a bit of an old mould.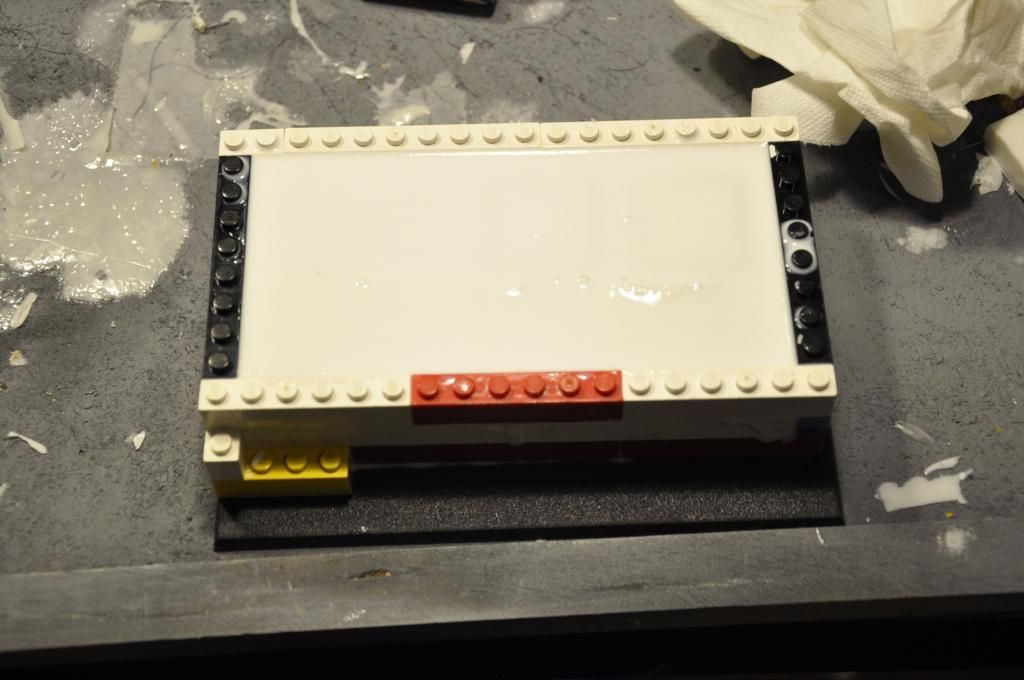 A tu już nie widać, ponieważ ją trochę podtopiłem.
And now you don't, cause I sank it a bit.
Po odczekaniu od 12h do 24h (lubię mieć pewność) w zależności od grubości formy, możemy rozebrać wszystko i bawić się w odlewanie.
After 12 to 24 hours (I like to be sure), depending on mould thickness, we can take out the parts and start casting.
Taka mała notka: tak, użyłem tutaj skrzynek i beczek jakiejś firmy, ale nie miałem nic lepszego pod ręką, co by miało prosty kształt i dało się ogarnąć początkującym. W następnym tutku, pokażę jak otworzyć taką formę i przygotować odlew. Mam z tym parę sztuczek związanych.
Side note: yes, I have used some company's barrels and crates, but they were the simplest shape I had at hand that would be easy for a first cast for beginners. In next tutorial I will show you how to carry on with your first cast, and few tricks I have.